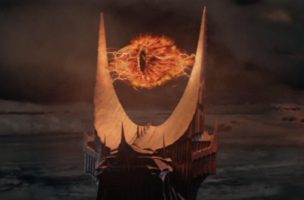 Good morning Gentlemen,
Today I will share with you what happened to me this week.
But first I want to tell you who will be the protagonists of the story and, more importantly, what role they will have.
The main protagonist of the story is called Sauron (the villain of " The Lord of the Rings" ) that in this episode will be a very bad burrs generated by machining, punctually, at the end of each thread….At the exit of the tool to be clear.
Who fights Sauron?
Of Course,
Aragon (I)
Gandalf ( my contact at my client )
Legolas ( the quality engineer at my client )
Ready, set, go….
It was a quiet and sunny day at the foot of the Gran Paradiso.
Gandalf was thinking head and at the same time the operational hand of a well known mechanical company.
Busy between his engagements, he could no longer accommodate all requests that were made, so he decided to call his latest knowledge….Aragon….
Aragon was the Owner of a mechanical company specialised in turning . The only difference between the two was that Gandalf had specialized in the machining on working centres, while Aragon had specialized exclusively on turning machining.
During an sunny afternoon with a light spring breeze, Aragon felt a strange vibration coming from his pants….it was Gandalf who was calling him.
"Aragon speaking?"….Aragon Said….
"Hi I'm Gandalf, I and my colleagues will need to talk to you….Do you meet with us this afternoon? " Rejoined Gandalf
"Of Course Gandalf….See you at 14.00 " replied again Aragon.
Punctual Like a Canavesano's clockwork (then late at least 5 minutes) Aragon arrived from Gandalf….It was there that he met Legolas….
Legolas was a gentleman much more set than Gandalf, but equally prepared and available during the conversation.
The meeting did not last long….Just long enough to explain to Aragon what was their goal….get a quote for a particular that they decided to entrust to him….
The three Knights saluted and went back to their work.
Back to home, Aragon began to commitment to formulate his best offer….But the real work as a professional was not to establish a price….But to find all issues that would have occurred during machining.
Aragon does not take long time….
Formalized his offer and, as he used to do, he attached a document of technical analysis.
A few days later he was again summoned by Gandalf and Legolas to discuss more in depth what Aragon had unearthed with his analysis.
The crux of the entire discussion was the possible formation of a dangerous processing burrs, unpredictable, sometimes imperceptible, at the end of the internal thread. Aragon, given its experience had goose bumps….He knew that sooner or later Sauron would come out and he would have asked for the Bill.
Despite all his efforts, Aragon was unable to convey the danger which was Sauron.
Gandalf and Legolas took shared decision to ignore Sauron….Because they had never had any problems, they had always been done.
The problem that Aragon could not to show, is that Sauron could pop out anytime, in any establishment of components destination.
These components were posted to:
Holland
Spain
United States
These destinations covered knew Aragon….But probably not all.
You know what kind of costs Gandalf and Legolas would have to pay to go to select and restore the pieces possessed by Sauron?
Aragon came at home a little discouraged, he began to prepare the machinery with all his equipment….awaiting the arrival of the raw components.
Passed a couple of days, in the middle of a sunny morning, passing as if by magic to the lawns enchanted, arrived on trucks with raw components.
Aragon began production and thereupon brought the finished components with its testing documents to Legolas approvals.
Of course the green light immediately came to Aragon, but he remarked the presence, although embryonic, of Sauron.
Got the green light, Aragon started to producing components with skill and efficiency.
Did not arrive to finish the first dump that, as if by magic, his trousers caught again. Gandalf had again needed of him….
"Aragon speaking?" Aragon Said….
"Hi, I'm Gandalf….Come on that happened a mess " rejoined Gandalf….
In the blink of an eye, Aragon jumped on his proud Steed (Fiat Doblò) and flight at the foot of the Gran Paradiso tackling like a tightrope walker the dangerous curves of alto Canavese.
There, Aragon was put in the room with oval table….Thus began as Aragon had planned in advance, the uphill battle against Sauron.
"Aragon, happened a disaster….Sauron became live in Madrid "said Gandalf and Legolas…..
Aragon was possessed by a mix of feelings….One side feared that the pieces he had produced were to burn, on the other hand wanted to make himself useful in defeating Sauron….Was his Revenge….
Reproposed the early solution on the sheet of technical analysis….This time he was taken seriously.
The only way to destroyed Sauron was making an additional chamfer at an appropriate angle where the thread exit.
Unfortunately the impending problem was another…..
How to prevent that Sauron win the war at the customer plant in Madrid.
It was not known how many components have possessed Sauron…..Nor what stage of contagion was every single component.
Began a joint analysis on assumptions….All to test….
Aragon started saying that it was possible there had been an error in production. That obviously facilitated the work of Sauron.
Aragon proposed to control the components during Assembly at the customer plant. In doing so, hoping that the number of components infected was minimal, their would be limited costs….
His solution was accepted by both Gandalf and Legolas from both the end customer.
Unfortunately the customer was enraged….In the Assembly their was losing a lot of time….
Aragon, Gandalf and Legolas decided to anticipate bypassing all engineering departments of the final customer.
Proceeded in the production of some components with the chamfer proposed by Aragon.
Advised the customer that in a couple of days would receive the prototypes of the component that has changed that would lose the war to Sauron….forever…..
The customer accepted.
After two days were delivered components. The fast technical analysis by Customer confirmed the total absence of viruses of Sauron.
Aragon, Gandalf and Legolas gained immediate approval for the start of production.
After noticing the quickness in the response of the trio, the customer is softened.
At the end of all analyses and tests, the result was that 18 components were discarded for excessive contagion of Sauron.
Several others were treated and healed.
The company of Gandalf and Legolas was saved….the mulct to be paid was very low….the war had been won!
Sauron was defeated and his DNA was placed in a crypt cryo frozen.
How much Gandalf and Legolas risked for not listening to the specialist Aragon?
Are you sure that Sauron has not already nestled within your components?
Remember….You may have the scythe of death to two millimeters from the neck and not know it….And if it were in the hands of Sauron?
Apparently a specialist costs more than a generalist….Apparently….
If you want to get more details and find out what are the real differences that could change the future of your company, fill out the form on the right.
If it considers interesting the subject matter share it on social networks.
That's all for now….See you to the next episode and….
……. Pay Attention to Sauron
Work Having Control
Eric