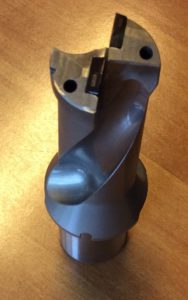 Hello Gentlemen,
Today I will analyse with you an issue that has been to my friend a few days ago.
Surely this article won't help at all, especially won't help to those more experienced technicians.
The problem that I want to analyse today is drilling on lathe with indexable insert drill.
He mainly work in milling but he also has a couple of cnc lathes.
Rightly so, as he says, being more focused on milling, he doesn't have all the technical background that has a person who only work in turning.
What are the immediately visible differences between the drilling on a cnc lathe respect to drilling on a machining center?
• In the machining center the drill is aligned with the spindle, in the lathe is not so, is off axis relative to the center of the turret.
• Machining center usually has more refrigerant pumps performance, both in terms of pressure, both in terms of flow.
• The closing of the drill on a machining center is more stable and precise than that of a cnc lathe.
These are just some of the earliest visible differences.
My friend had to drill diameter 44 mm and 140 mm long.
After he had mounted all, he tried to do the first component.
The surface of the hole is very bad.
Despite the component goes just drilled, no tolerance whatsoever, that kind of result was not accepted.
Meanwhile, I arrived at his company to take a tool that I had lent to him.
So it was that I was kidnapped…
This is the result of his drilling.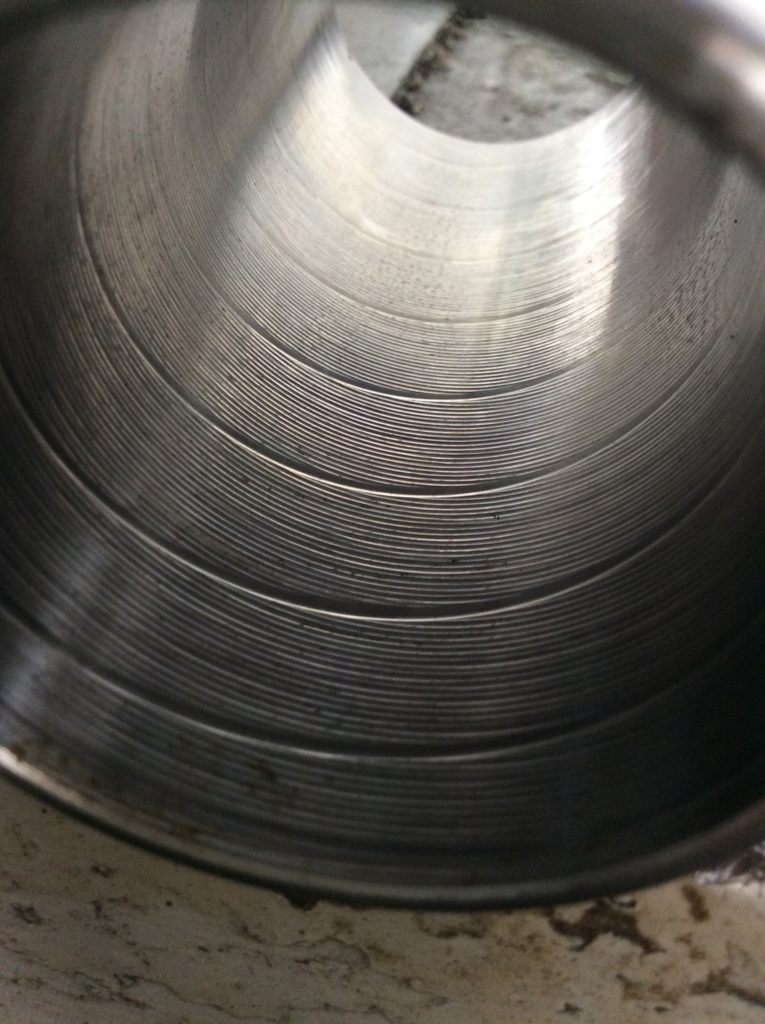 It's not hard to find and solve the problem for an experienced insider on cnc lathes.
For some less specialized instead.
What's the matter? They are actually 2…
•

Indexable insert drill fitted incorrectly.
•

Low coolant pressure.
The first problem is easily solved.
The indexable insert drills can be mounted in different ways. Unfortunately, there's only one correct, with the sharp edge outward facing opposite the tower.
You read that then I'll put pictures to explain better.
The theory is as follows:
When the drill with indexable inserts starts pushing the workpiece, to start drilling, it generate a counterforce that is going to be dumped onto the head by throwing a twist (both the turret and the chariot of the X axis).
Obviously, the more there is effort (hard material, high feed), more will be greater than the decline of the turret.
If the drill with indexable inserts were mounted with reverse cutting into the turret (as in the photograph above) we will have as a consequence a smaller hole.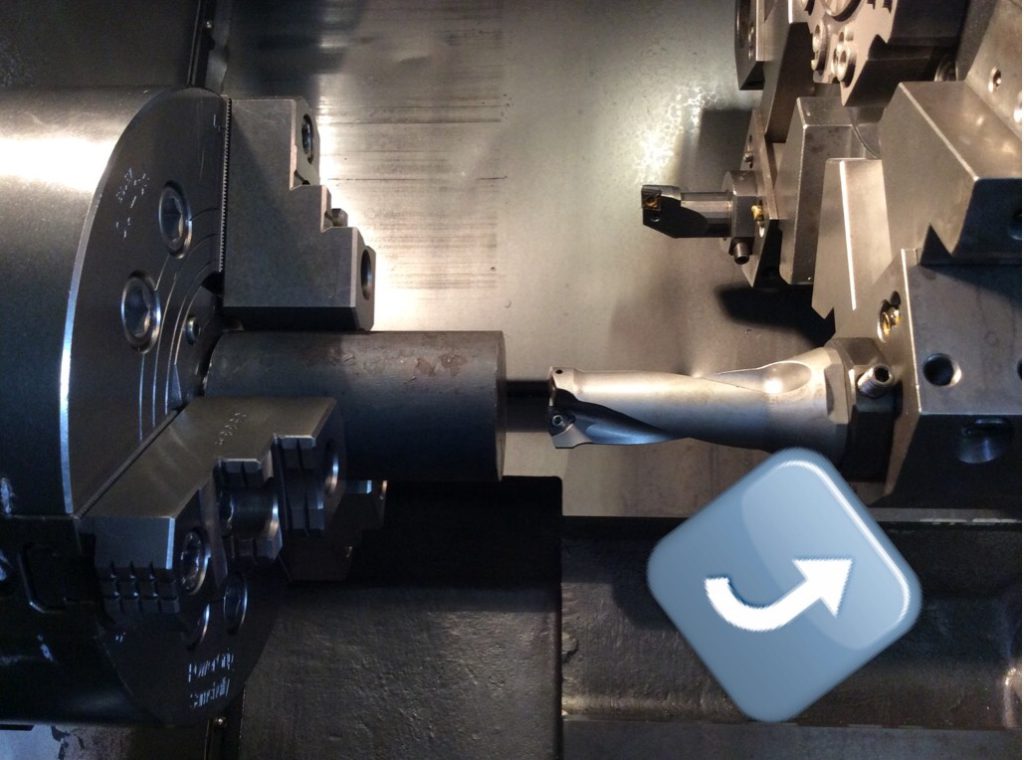 The problem becomes apparent (and dangerous) when you have finished the hole.
Why?
Because the indexable insert drill loses axial thrust against the direction of the hole back to the normal position.
This return provokes a lining on the workpiece during the return of indexable insert drill out of the component.
This rifling causes an uneven surface and frankly awful as you can see in the photograph above.
Another problem concerns the possible damage and premature wear of insert … And you know that it's expensive.
Another issue that could occur (over the time) is premature wear of drill's head and this doesn't come cheap.
Indexable insert drill should always be mounted with external cutting from the opposite side to where is the turret.
Here's a picture of the correct Assembly.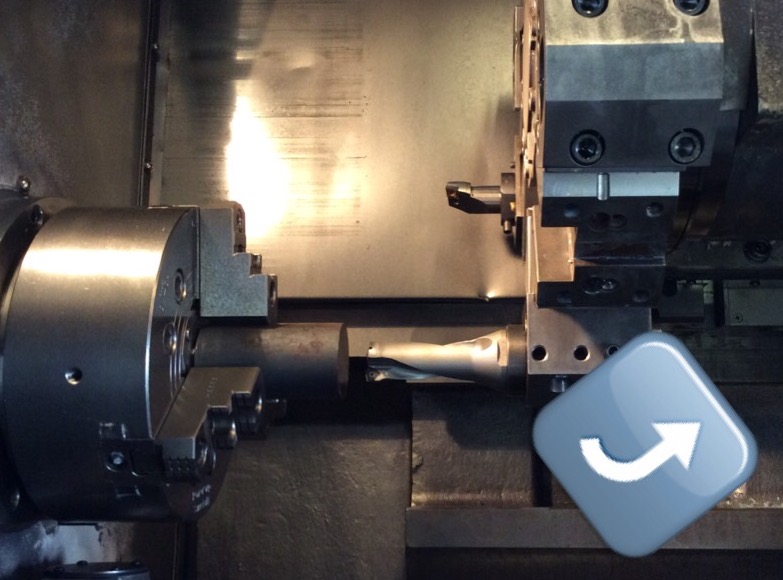 As you can see the insert is mounted on the outside of the turret.
The second problem is a little more difficult to solve.
Generally the Standard machines are equipped with refrigeration pumps which, to be frank, would not be sufficient either for the turning.
In drilling water flow and pressure are absolutely fundamental.
Plus drill has small diameter, the pressure must be high and The flow may be neglected.
Plus drill has big diameter, more pressure and flow rate must be high.
Of course his pump for lubrication was standard…
To overcome this obstacle he had to replace the standard pump with a high pressure (10 bar) which had previously regenerated.
Well …. What you see below is the result of these two changes.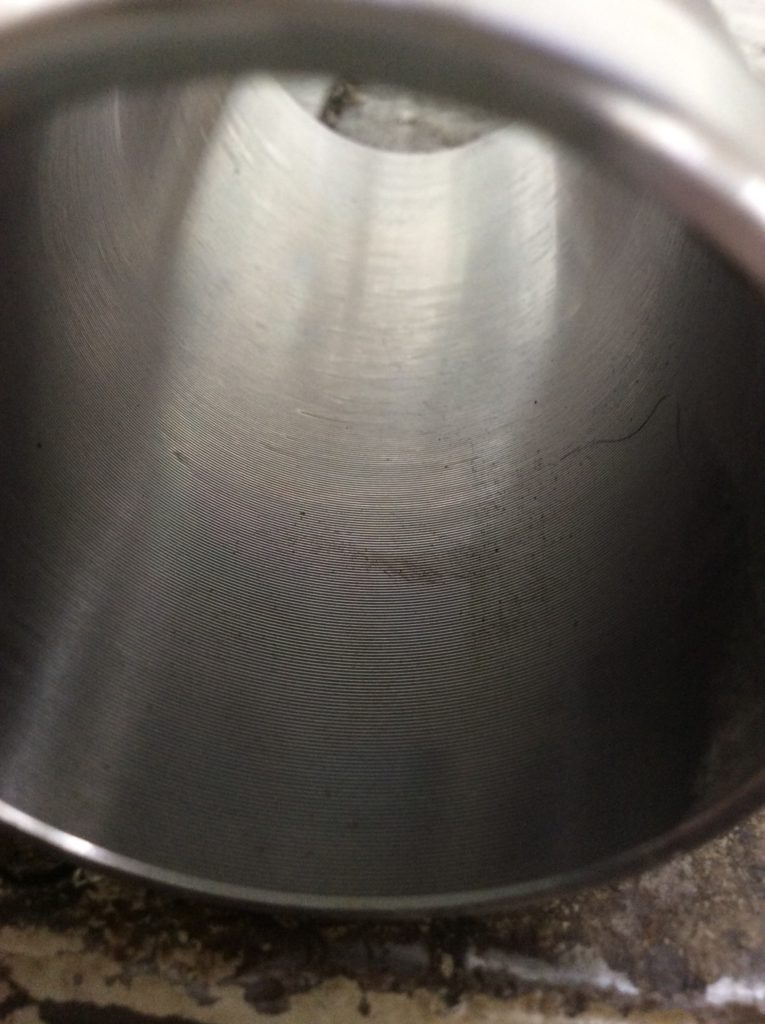 Not a bad change.
I hope this article will be useful for you.
Before concluding, I would like to reflect with you on a very important aspect.
If I hadn't passed casually by my friend, definitely he wouldn't be able to drill as required.
Then:
Lengthening delivery times for so many trials.
Not guaranteed results.
Prices may increase too much.
Abandonment of your suppliers.
Well, we both know what it may mean for your business ends up in the middle of a situation like that.
What you can do because that doesn't happen?
Simple …
You have to go to a specialist.
I ask you a question…
If you happen to get hurt a knee from whom would you go?
Answer A: From a generalist physician.
Answer B: From an orthopedist specializing only on knee.
Those whose Focus on savings at all costs immediately (without looking at a notch from his nose) would go to the doctor generalist.
The problem is not considered is that the practitioner does not solve the problem.
Then you will go to another doctor, then another, then another and finally you gives up and goes to pay the right price for a specialist to resolve your problem.
The result of all this set of choices is that:
You have been ill for longer
You spent a lot more money
You lost much more time
Doesn't it seem a little crazy as way of doing things?
Do you want to grow your business so solid?
Do You want that the job runs smoothly and don't bring confusion in your offices?
Would you like to ensure that you receive the products within the agreed deadlines?
Do you want to be sure of the quality of products that you receive?
Choose a specialist.
Will change your life.
Work Having Control
Eric